Our approved vendors are listed below. For more detailed information, please click on each name.
A. Andrew Gianiodis, CPA
279 Niagara Falls Blvd. Amherst, NY 14226
agianiodis@aol.com
716.510.6068 (cell) 716.862.0036 (office)
Andrew graduated from State University of New York, College at Geneseo in 1988. Immediately after graduation, Andrew a local Rochester accounting firm, where he became certified prior to moving back to Buffalo, NY in 1992. At that point, Andrew started his own firm while working a variety of full-time positions in public accounting and private industry.
Andrew has held a variety of positions including senior internal auditor for a privately held national concessions company; controller of a national parking company; and a specialized senior auditor for a publically traded financial institution. All the while, Andrew has been growing his accounting practice to providing a wide variety of taxation, accounting, auditing and management advisory services to closely held businesses across the country.
About My Firm
For years, A. Andrew Gianiodis, CPA has been providing quality, personalized financial guidance to local Buffalo area individuals and businesses. The firm's expertise ranges from basic tax management and accounting services to more in-depth services such as audits, financial statements, and financial planning.
My Mission
Our mission is to help clients maintain financial viability in the present while taking a proactive approach to achieve future goals. This requires open communication to reach an understanding of our clients' needs, thorough research, and sound analysis., A. Andrew Gianiodis, CPA is dedicated to meeting these goals with high standards of excellence and professionalism.
Lenders Loan Capital
Information on Lenders Loan Capital
Our products may help possible investors obtain capital or help you invest in yourself. Here is an overview of our premier business funding products. Keep in mind, that we have access to more conventional funding as well. These are the loans we saw were lacking in the market place to help the small to mid-size business start-up, expand or stay afloat.
First there is our Flagship program the Credit Line Advantage which offers capital to business owners without the hassle. This is based solely on personal credit. Most conventional lending vehicles require a detailed business plan, income documentation, and/or collateral. This one requires neither.
This is an unsecured line of credit program that offers multiple trade lines that have an introductory 0% interest rate for a period of 6-24 months depending on the applicant. Funding is up to $200,000 per borrower. For the highest loan amount, 5-10 trade lines may be established. This can improve credit significantly and can lay the foundation for even better lending opportunities in the near future.
Lenders Loan Capital's Credit Line Advantage benefits include:
Up to $200,000 per borrower * $0 Upfront Fees
No Required Asset Documentation
No Required Income Documentation
No Collateral Required
0% interest from 6-24 months
No prior business operator experience needed
Our other premier product is the Business Cash Advance. A Business Cash Advance can help business owners to get the money they need when they require a certain amount of cash in a situation upfront. The amount that gets funding will be based upon a percentage of credit card receivables the businesses has gotten by using its history of credit card receipts and bank statements to decide how much the business should be allowed to receive as its initial business cash advance.
Patricia Castellano Account Executive Lenders Loan Capital Lake Worth, FL 33461
O 800.779.0226 x5001 D 954.907.6636 F 561.288.9074
Pro Surety Bonds
Our bonding specialists have developed special programs with an extensive network of quality surety companies and underwriters enabling us to provide our clients with the best prices and the fastest service. Quick turn-around, accurate bonding, and world class service is what Pro Surety Bond is all about. You have made the right choice. Call us at 800-314-7003 and get your Surety Bond today!
We Have In-House Underwriting Authority! Unlike most insurance agents who sell surety bonds, we have in-house underwriting authority for most bonds and in many cases we can turn around a bond within 24 hours. Freely issued bonds are completed in just minutes.
The Surety Bond Business is All About Relationships. We work very hard not only to build and maintain trust with our clients but also with our carriers and underwriters. Strong relationships with all parties to a Surety is critical when it comes to getting difficult bonds done quickly and efficiently.
Bad Credit is No Problem! We understand the last few years of difficult economic times have been devastating for both companies and individuals. We have several programs available to assist those with credit challenges get the surety bonds they need!
Complete Brochure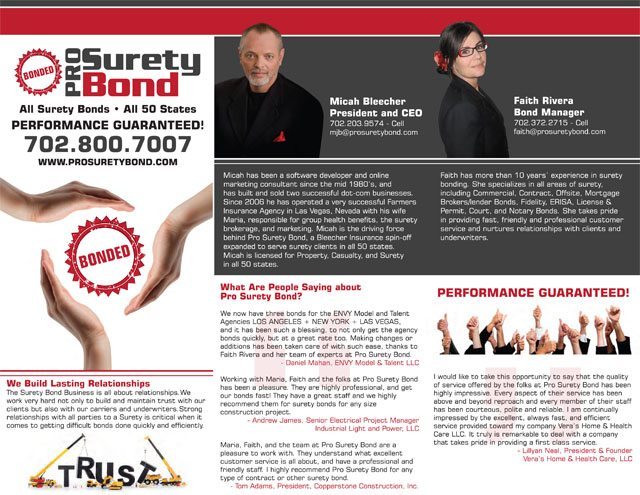 Mr. Webpage - Website Development & Marketing
Mr. Webpage is a website development company that offers everything from simple start up websites to completely custom programmed and designed websites. If you need help maintaining your site, or completely rebuilding your site, Clarence, the owner of Mr.Webpage can help out.
With over 15 years of experience, you will be in good hands.
Eye Breath Design - Graphic Designer
If you need help with your graphic design needs, contact Eddi, at Eye Breath Design. He can help you with everything from logos, brochures, print ads, flyers, business cards, etc. If you need it to look professional and eye catching, Eddi can help you.
Phone: 313-829-5859
Disclaimer
We at Headlights 20/20 USA accept no responsibility for the quality of the professional services [or lack of such] by those approved vendors we list on our web site. This approved vendor list is offered "ONLY" as a comparative tool for our current and future franchisees to use when shopping for a range of services and products.