There a number of very good reasons to buy one of our franchises, here are just a few:

An extremely large supply of potential customers.
The automobile restoration business is growing.
The freedom to create your own schedule.
The benefit of working outside, and not being cooped up in an office all day.
The opportunity to create your own financial independence.
Some Additional Reasons
1. Our HEADLIGHTS 20/20 USA® franchises are moderately priced to afford the possibility of business ownership to a wider range of individuals.
2. There is no foreseeable end to the business of restoring plastic headlight lenses. There are literally millions of vehicles on the road today whose headlights have become cloudy, hazy, or yellowed over time, and almost every new vehicle stands a very good chance of becoming a new customer for your HEADLIGHTS 20/20 USA® franchise over time.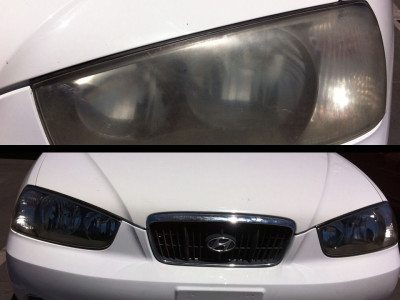 The most important contributing factor to a business' continuing success, is HAVING A CONSTANT SOURCE OF NEW CUSTOMERS. It is extremely unlikely to run out of vehicles that have cloudy, hazy, or yellowed headlights in the foreseeable future, which offers your HEADLIGHTS 20/20 USA® franchise longevity.
3. Many people want to change their "working" lifestyle. They want to have an opportunity to earn more money, have more personal freedom, and become more financially secure. It is a given, that many people who are employed are fearful of losing their jobs, and want to offer additional financial protection, and security to their family.
4. Many Seniors know they will need a secondary income to supplement their Social Security, and other retirement plans, so they may continue to maintain their current lifestyle after formal retirement.
Once a person is in their 50's or 60's they are pretty much out of the job market, and finding another job of any kind is sometimes difficult to impossible for them.
A HEADLIGHTS 20/20 USA® franchise business can be operated by most Seniors because it's not physically demanding, but can be financially rewarding.
Disclaimer
The sales information on this website does not constitute an offer to sell a franchise or license. The offer of a franchise can only be made through the delivery of a franchise disclosure document.
Certain states require that we register the franchise disclosure document in those states. The communications on this website are not directed by us to the residents of any of those states. Moreover, we will not offer or sell franchises in those states until we have registered the franchise [or obtained an applicable exemption from registration] and delivered the franchise disclosure document to the prospective franchisee in compliance with applicable law.
Your financial reward follows your passionate desire, learned knowledge of the business, and motivation to succeed. The HEADLIGHTS 20 /20 USA® FRANCHISE opportunity has been designed to offer you as an individual, a family, or multiple HEADLIGHTS 20 / 20 USA FRANCHISE® business owner an opportunity to purchase a franchise business that is reasonably priced, and compared to many businesses, easy to operate.